Local Boarding Kennels/Catteries
---
We advise any owner to check out for themselves the services offered as everyone has different requirements and what may suit one person and their pet may not suit another. Please check your pet's vaccinations are up to date prior to boarding. This clinic recommends that all dogs be vaccinated against infectious bronchitis (Kennel Cough) before being boarded.
Blakeley Farm Boarding Kennels,
Blakeley Lane,
Dilhorne,
Stoke on Trent

If you require quality care then make your booking on....
Tel: 01782 551515
Fax: 01782 551388
email: truganiniks9s@hotmail.com

---
Staffordshire Holidogs
Email: kim@staffordshireholidogs.co.uk
Family run business that cares for your dog in our own home
Call Kim on 07779 968226
---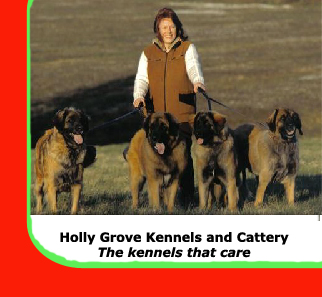 Penny Dabell, Manager
Holly Grove Farm
Thorney Edge Road
Bagnall, Staffs, ST9 9LA
Tel 01782 503946 Mob 07915 612485
pennydabell@aol.com
www.vectiseleon.co.uk


---
Hay House Farm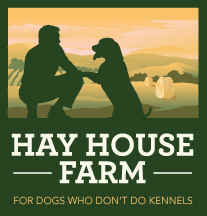 Belmont Road
Ipstones ST10 2JR
Tel: 01538 266834
Luxury dog boarding, for dogs who don't do kennels!
The discerning canine guests can stay with the family for Day Care, Sleep-Overs, fun-packed Activity Holidays for Fit Adult Dogs and Relaxing Breaks for Mature Dogs, all ranging from a day to several weeks.
---
Oaklea Kennels and Cattery,
Dilhorne Road,
Forsbrook ST11 9DL
Tel: 01782 393500
www.oakleakennelscatteryst11.co.uk

---

Wizardwood Boarding Kennels and Cattery,
Cooks Lane,
Bradnop, Leek ST13 7HA
Tel: 01538 383946

---
Brookhouse Boarding Kennels,
186 Brookhouse Lane,
Bucknall
Tel: 01782 302539
---


Underbank Farm Cattery, Underbank Farm, Thorncliffe, Leek
Tel: 01538 300564
---


Stoneycroft Cattery, Hollins Lane, Kingsley
Tel: 01538 756038
---
Moorlands Small Pet Hotel
Dave and Sandra Bridgeford have many years between them looking after small pets - exotic as well as 'ordinary'. Dave has nearly 15 years experience in both zoo and wildlife centres, backed with a City and Guilds Certificate in Zoo Animal Management and NVQ in Customer Service qualifications, while Sandra has cared for many animals at home as well as hand-rearing parrots, birds of prey and other birds.
Check out their excellent website to see how they could help you!
http://www.moorlandsmallpethotel.co.uk
---
Brycris Pet Hotel
Sandy Lane, (end of Washerwall Lane) Werrington
01782 305183
---
Stoneycroft Cattery
Hollins Lane
Kingsley
Staffordshire
01538 756038
---
Valley View Cattery
Ms Jones
Hazelscross,
Kingsley,
Staffs ST10 2ER
Phone number 07425993350 her
website www.valleyviewcattery.co.uk

The cattery is endorsed by the Feline Advisory Bureau (FAB) as being up
to their standards, this covers every aspect, including care and cleanliness




---
Physio-Vet, dedicated veterinary physiotherapy
Governed by the Royal College of Veterinary Surgeons and the Society of Chartered Physiotherapists and based in Crewe Hall Farm, Physio-Vet provides a range of treatments:
Your pet will need a veterinary referral so if you feel Physio-Vets can help your pet then speak to Pat and we will be able to organise an appointment
---
Cad's and Dogs
Professional dog walking and cat sitting service
Call Jacqueline Caddy to arrange an appointment
Tel: 01538 371501 / 07751 173240
email cadsndogs@gmail.com
---
While you're away, home and pet sitting service
Reliable home and pet sitters who take care of your animals and belongings according to your exact needs
Tel David or Sue Meckin on 0845 450 4999
email sue@while-your-away.co.uk
www.while-your-away.co.uk
---
Dog Grooming

Blakeley Farm Boarding Kennels, Blakeley Lane, Dilhorne, Stoke on Trent
Tel: 01782 551515
---
Fluffies mobile dog grooming
Telephone Karen on 07884 151716, 01538 361856
email: fluffies.karen@gmail.com
---

Dogsbody Dog Grooming Service, Cellarhead, Stoke on Trent
Tel: 01782 550093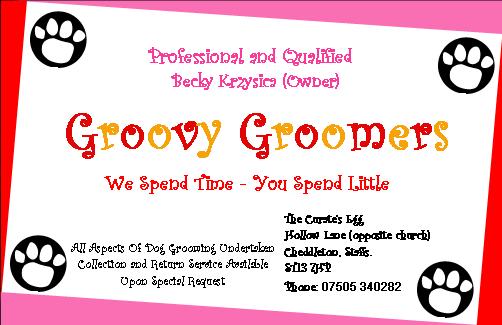 ---
Mutz Cutz
Small Dog Grooming in the comfort of your own home!
Does your mut need a cut? 'Mutz Cutz' mobile dog grooming service is now back in business after owner Marie returns to the UK.
Marie offers dog grooming for small to medium size dogs in the comfort of their own home.
Call Marie on 07773 422221.
---
Take The Lead Dog Training Club, Northwood, Bucknall. Monday evening from 7pm.
**New venue from 9/1/12**
St Paul's Church, Longton Hall Road, Blurton, Monday evenings
Please check the website for details

Tel: Helen 01782 856416.
www.taketheleaddtc.com

---


Yvonne Kelsall, Mossley . Dog obedience, socialization and training.
Tel: 01782 515667
www.bestk9school.co.uk
Classes at Eaton, nr Congleton and Biddulph Moor, as well as one to one help.
---


Mr. Bell: Obedience training, Leek Tel: 01782 513894.
---


Staffs Agility School: Tel: Lorraine Walchester 01782 334211 or 07710 660594.
---

Trentham Dog Training School: Obedience training, puppy classes etc.
Tel: Su Harvey 01782 374411.
---
J C Travel
Telephone: 07890 431862
---
Majestic Owls
available for Static Displays
Owl rescue
Founded by David Goldstraw over 30 years ago, we have been rescuing and rehabilitating injured wild birds of prey

Tel Noel Trafford 01538 421104 07539 520755

---
Horse Rug Repairs
Telephone Janet on 01260 270213 (Congleton)
---
Contact us on:
Tel 01782 832575
Fax 01782 817623
Email sales@zippyuk.com
Snail mail
Zippy UK Ltd
Unit 1 Castle Works
Hobart Street
Burslem
Stoke on Trent
ST6 2AH
---
Hands and Feet (and Paws!) by Tracy Booth
Capture and preserve forever the size and uniqueness of your pet's paws.
Handmade casts beautifully presented in a fully line solid oak frame
Priceless from £59
46 John Rhodes Way
Tunstall, Stoke on Trent ST6 5XA
Tel 07772 304065
---
Stoneycroft Pet Products
Pavlov's Cat Scratch Feeder, interactive treat and food dispenser
Protect your home from scratching cats
Tel 01538 756038, email stoneycroftpetproducts@sky.com
---
Think of your dog's and cat's sanity! Get that piano tuned!
Pianoact tunings and removals
Tel 07779 138 369
Local to the Leek area
---
Art by Ei
Original artwork, prints and gifts.
Pet portraits and humerous animals a speciality.
Commissions welcome
Eileen Frost
01783 329055
http://art-by-ei.com
---
Dougal's Den
Amazing Finds for the Furry Kind
woof@dougalsden.co.uk